23 Oct

Training sessions for SMEs at West RDA in collaboration with Raiffeisen Bank Romania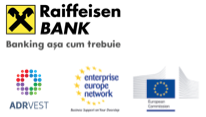 West Regional Development Agency (West RDA), as Enterprise Europe Network partner, and Raiffeisen Bank Romania, have started the preparations for organising the four training sessions jointly coordinated.
The sessions are dedicated to SMEs clients in the bank's portfolio in order to develop their business through internationalization and innovation. получить займ онлайн на карту.
The 4 workshops will take place from October, 30 to November, 07  and will be provided by West RDA experts under the umbrella of Enterprise Europe Network – the world's largest business support network.
The topics include:
· Internationalisation: setting up partnerships, challenges in accessing the European single market, cultural differences;
· Increasing innovation capacity as a driver of continuous business development;
· From start-up to scale-up;
· Business Networking: the quick way to create connections.
 The training sessions will be held at West RDA Timisoara headquarters (5, Proclamation Street, Timisoara).