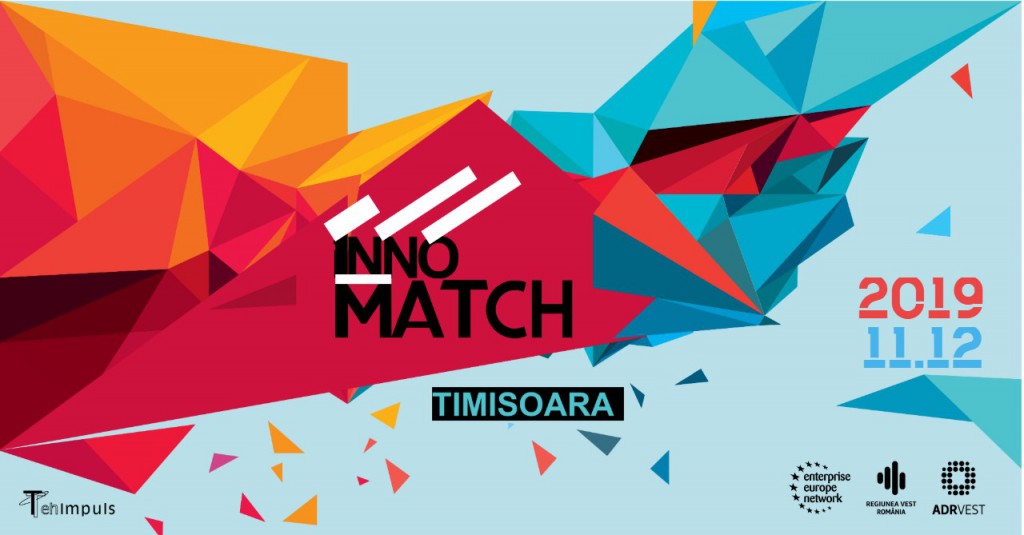 Timisoara was, on December 11th, the meeting place for innovators, at the seventh edition of Innomatch.
Representatives of the European Commission, experts in public policy, innovation, development and research, together with top European entrepreneurs participated within INNOMATCH 2019, the most important international innovation event in the West Region Romania.
This year's focus were the companies and the entrepreneurs as the thematic approach was "Globally connected  ecosystems thriving together".
The agenda of the event included three sessions of presentations and moments of interaction with the public. Authentic and inspirational stories were presented by prestigious national and international speakers as follows:
Future-Driven Policy Tools Panel
Vittoria Alliata di Villafranca, Director, DG REGIO, European Commission
Giacomo Mattino – Head of Unit – Enterprise Europe Network and SMEs internationalization, DG Grow, European Commission
Gabriel FRIPTU – Deputy General Director, The Ministry of European Funds
Gergely Tardos – Policy Officer, DG Research and Innovation, European Commission
Envisioning Innovation Ecosystems Panel
Ismael Abel Valles – Valencian Entrepreneurial Ecosystem, Spain
Julio Suero – Mr Jeff – scaling start-up Spanish company
Valentin Regnier – Manager, Laval Virtual, France
Valerie Moreau – Innovation and Internationalization Manager, Laval Mayenne Technopole
Bill Metcalf – St John's Innovation Centre, Cambridge University, UK
Daniela Florea – CEO Geo Strategies Group, Cambridge spin-off, UK
Relentless Entrepreneurship – Bold Equals Disruptive Panel
Raoul Ross – Commercial & Markenting Director, Frontier Connect – Smart agriculture integrator, Romania
Razvan Boldis – CEO, MO´ Real Universe – Virtual and augmented reality solutions, Romania
Razvan Atim – Head of Sales, Eastern Europe, UiPath – Leaders in Robotic process automation, Romania
Around 200 people were present during the event, thus achieving the objective of highlighting the success stories existing at regional, national and international level and at the same time facilitating contact and dialogue between the regional and international business community.
INNOMATCH moderator was Timothy Benzie, Consultant for business partnerships at Greenwich Research and Enterprise (GRE), Enterprise Europe Network, UK.
The event was organized by the West Regional Development Agency  in partnership with Tehimpuls – Regional Center for Innovation and Technological Transfer.
The presentations and a selection of photos can be viewed at the following link:
https://drive.google.com/open?id=1KU1Sf9uQbcOGZ1jrEZaUVy0z-2shuiUT быстрый займ на карту.
Link video: https://www.facebook.com/106054577424355/videos/620937622006632